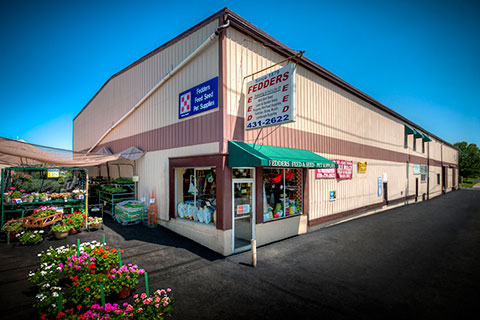 Our Store located in Covington at 1500 Russell St.
Have you ever taken a trip to Fedders' at 1550 Russell St. in Covington, KY? If not, then you are missing out on quality products at great prices. Not to mention a friendly atmosphere and superior, old-fashioned customer service!
Did you know that Fedders' carries food and supplies for just about any type of animal of any age or size? Dogs, cats, horses, deer, birds, lizards, fish, livestock and many more. For you deer hunters, we carry a full line to satisfy your hunting needs including salt and mineral blocks, food plot mixes and much more! In addition to caring for your animals, Fedders' can help with all your lawn and garden needs as well. We have all types of grass seeds, mulch, straw and fertilizers as well as decorative stones, propane and pest control products.
Did you also know that we carry professional bed bug products? That's right, we have the same products the professionals use available for at-home use without the cost of hiring a professional. Our line of products is extensive and we are certified to distribute pest control products.
Please come visit us at 1550 Russell St. in Covington and see why we are one of Kenton County's oldest businesses. Fourth generation owner, Scott Fedders, and his knowledgeable staff are ready and willing to assist you with all of your home and garden needs. You'll be surprised at just how much we have to offer! We've been in business for 140 years - so stop in and give us a try! We look forward to seeing you!